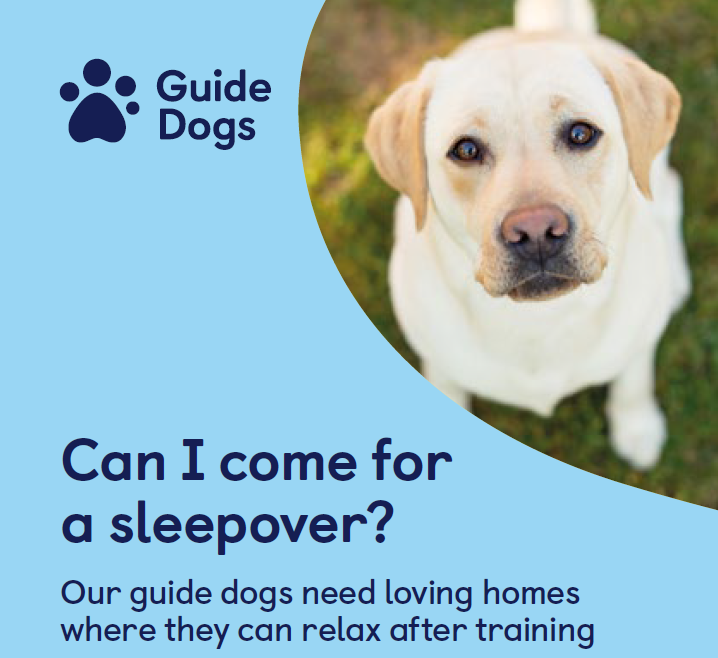 What's involved?
We rely on volunteers like you to help us improve the lives of people with sight loss. We have dogs at various ages and stages of their career who may need temporary accommodation and the need will be dependent on your location and circumstances. In this role your support will include:
Providing a safe, secure, and welcoming environment for a dog or puppy.
Ensuring the dog or puppy is fed, exercised, and cared for to maintain excellent health.
Using positive reinforcement training techniques to teach or maintain behaviours.
Ensuring the dog is not left alone for more than 4 hours in a 24-hour period.
Foster volunteers who care for dogs in training need to drop off and collect their dog from a Guide Dogs location. Times vary but are normally Monday to Friday between 8-9am and 5-6pm.
Foster families who have someone at home during the day will generally be able to keep the dogs at home, however there may be times we need to collect the dog or ask for them to be taken somewhere local.
You'll have
Ideally you will:
Have a home with a safely fenced garden or safe area for the dog go to the toilet.
Have dog handling experience but not essential.
Be a confident and conscientious driver and have access to a car you are insured to drive.
If you don't feel you tick every box but are sure this role is the one for you, please drop us a message and tell us why. We're open to suggestions and happy to chat with you to find out what's possible!
Why get involved?
Volunteering is a two-way street, so in return for your time you will get a dedicated key contact who will help you settle in and support you during your time with us. You'll also get:
The opportunity to care for and have the companionship of a dog for evenings and weekends or for short periods of time.
Dedicated support to develop your dog handling and welfare knowledge.
The satisfaction that you are part of a committed team with a pivotal role in providing guide dogs for people living with a visual impairment.
Training and support
This role has 6-8 hours of training and then you'll be ready to go! These modules include:
Dog knowledge, care, handling
Handling younger and larger/ more active dog need more training
If you have questions about the training requirements, we can answer
these at your interview along with any other support or accessibility
needs you may have.
Volunteering for Guide Dogs should never leave you out of pocket.
We'll make sure we pay any expenses related to your volunteering with
us in line with our policy.
What we need from you
Criminal Disclosure check necessary? No
We are working hard to make sure anyone who wants to can volunteer for Guide Dogs, but at the moment we have a minimum age of 18 for this particular role.
How to get involved?
For those interested, please head over to out website at Volunteering Opportunities | Guide Dogs or for questions and queries, contact your local Volunteer Coordinator at patrycja.janecka@guidedogs.org.uk
Or accept the challenge and we will get in touch with you.
Ideal Interests
Community Work
Farms/animals
Sight Loss
Animals