South Bristol Toy Library is entirely volunteer led and relies on a committed and enthusiastic team to keep going and evolving, and to ensure the toy library sessions run smoothly.
We are always on the lookout for new volunteers to join our friendly team.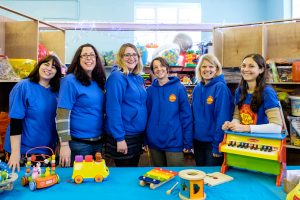 At the moment we are particularly looking for volunteers to:
Lead toy library sessions
Help out at toy library sessions
Our volunteers are part of a friendly team, building new skills and contributing to a fantastic local resource. Volunteers at sessions enjoy a sociable morning with free refreshments and toy hire for that session, and are welcome to bring their baby or child with them (unless they're the session lead).
What's involved?
Sessions run fortnightly Saturdays, 10.30am-12pm (volunteer shifts are from 10-12.30 to allow for set up and clearing away).
Loaning toys using our online lending catalogue.
Overseeing an informal stay and play session during library opening hours.
You can volunteer for one to four sessions a month depending on availability.
Why get involved?
If you have children it is a great way to access more toys, meet other parents and carers locally and support local families with play.
How to get involved?
hello@southbristoltoylibrary.co.uk
More info on www.southbristoltoylibrary.co.uk
Please note that if you accept this challenge your contact details will be passed on to the South Bristol Toy Library.
Many thanks
Ideal Skills
Money Handling
Working independently
Working with Children 0-5yrs
Working with Children 6 - 12yrs
Working with Databases
Working with Young People
Ideal Interests
Community Work
Play and working with children